About the Course
In this course, participants will learn the fundamentals of negotiation, while developing interpersonal techniques and tactics for effectively influencing people, especially in difficult situations involving strong emotions. Utilizing the latest research in negotiation, and conflict resolution, this course will expand participants' abilities to more productively approach interpersonal interactions that may cause anxiety or discomfort. By the end of the course, participants will have more control and confidence during these interactions, more effectively managing them and influencing others.
Course Methodology
Negotiation simulations and exercises, carried out in small groups, will be conducted throughout this course to help participants practice developing their powers of communication, persuasion, and negotiation, and conflict resolution.
Course Goals
There are several learning objectives for the course, based on 12 modules covered over four days June 21-24, 2020: 
Day 1: Persuasion Through Negotiation
The Value of Negotiation
The Elements of Positional Bargaining
Anchors, First Offers, and Making Concessions
Day 2: Persuasion Through Problem Solving
The Negotiator's Dilemma
The Elements of Principled Negotiation
Principles of Influence and Persuasion
Day 3: Persuasion Through Curiosity
Persuading Their Internal Voice
Cultivating a Cooperative Environment
Impact the Contribution System
Day 4: Persuasion Through Emotion
Acknowledging Emotion
Sustaining a Resilient Identity
Managing Difficult Tactics
For more information on the course modules and objectives, please click here to access the course flyer.
About the Instructor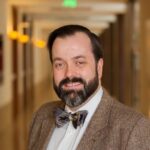 David Emmanuel Gray, Ph.D., is an Adjunct Assistant Professor at the Edmund A. Walsh School of Foreign Service in Qatar. Over the past ten years, Dr. Gray has taught undergraduate and professional education courses on negotiation and conflict resolution in Qatar. He received his Ph.D. from Carnegie Mellon University, and specializes in ethical theory, political philosophy, and decision theory.  
He has taught a number of classes in these areas at Carnegie Mellon University in Qatar, Northwestern University in Qatar, and Georgetown University in Qatar. In addition, he has worked  on social responsibility projects with local companies, ministries, and other  organizations, while also being invited to deliver talks on conflict resolution, business ethics, sustainability reporting, ethics of leadership, and religious tolerance.